In celebration of World Oceans Day, 8 June 2022 at 13:30 CEST, JPI Oceans will host a special Zoom and Facebook Live session focusing on the potential of ingredients sourced from the sea to heal our wounds.
The event will welcome guest speaker Karin Gilljam, coordinator of the BlueBio ERA-NET Cofund project AquaHeal3D. Dr Gilljam is the Chief Science Officer at the projects' coordinating institution, Regenics, Norway.
AquaHeal3D combines all renewable, marine sourced products to create a 3D printed wound healing medical device. It will incorporate Regenics' bioactive substances from unfertilized salmon roe, HTX, into a topical wound healing dressing for chronic hard-to-heal wounds. No dressings with integrated skin regenerating and anti-inflammatory properties are available. Therefore, Regenics' wound healing innovation is ground-breaking in advanced wound care. A successful project will provide a unique opportunity for the consortium to sign licensing agreement(s) with top global wound-healing companies, also contributing to job creation in the marine and healthcare sectors.
During the session, Dr Gilljam will present the AquaHeal3D project and answer questions submitted by the audience during a live Q&A session.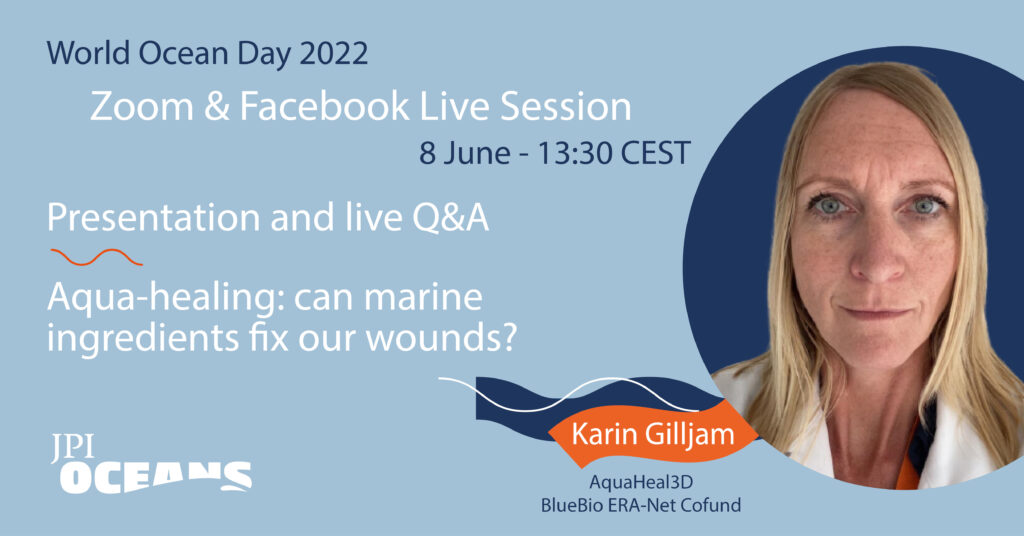 Practical details
The event will take place on 8 June 2022 at 13:30 CEST, as a Zoom event and livestreamed Facebook session on the JPI Oceans Facebook page.
Questions to our guest speaker are welcome and encouraged for the live Q&A. Questions can be submitted during the event in written form through the Zoom chat or in the comments under the Facebook live post.
To join the event on Zoom, you are welcome to register here.
To join the event on Facebook, no registration is needed.